The weekend after Valentines Day, Jason had a fire under him to get everything ready for the baby. He put the new crib together, I washed Jack's old baby clothes and some of the new ones we had received, we bought a crib mattress, and put the carseat base in the van - just lots of little things that hadn't been done yet. All three of us were still fighting off wicked colds, so I had been coughing like crazy all weekend.
Sunday February 17th, Cara hosted a luncheon for me to celebrate Baby Brother (full post with pictures to follow!), and I kept telling everyone that now that we had done all those last minute things, the baby could come whenever!
That night, I w
oke up at 2:35am to go to the bathroom... typical. When I got back in bed, Jason asked me if I was having contractions, but I wasn't. Then like 5 minutes later, I had 3-4 contractions within a 10 minute period! And I'm laying there thinking, surely these aren't REAL ones, and I start to feel like I'm peeing... but I just went! Surely it's not my water breaking! So I got out of bed and headed towards the bathroom and- oh yeah, that is TOTALLY my water breaking!! I woke Jason up at 2:50am and we got ready (packing our hospital bag was one of the things on the list that we HADN'T done yet... whoops!), woke Jack up and headed to the hospital at 3:35am.
When we got to the hospital they confirmed that my water did break (and it kept coming for like 2+ hours!), and they put us in the Fuchsia Room. The absolute worst part about early labor for me is "getting checked". My nurse, Wendy, was very sweet and did the best she could, but it was completely miserable!! She said I was a 3-4 and 80% effaced when she checked. We called our parents, Sam and Vanessa, Hunter and Elizabeth, and I texted a couple friends to let them know that I was REALLY in labor!!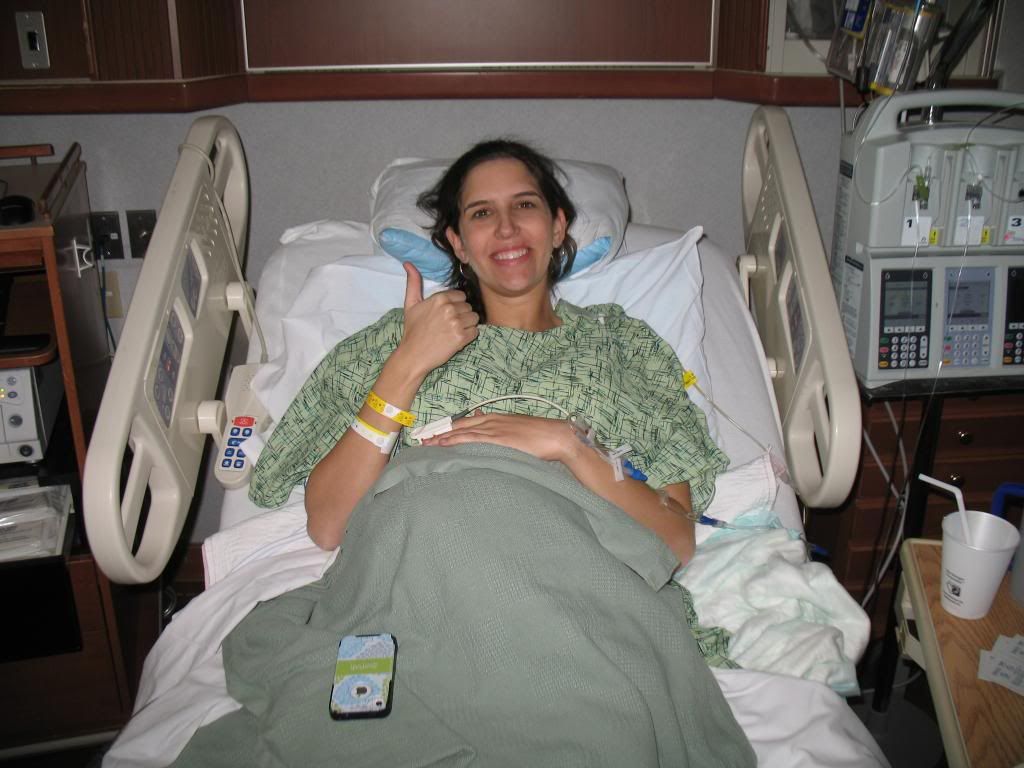 this is my "I love pain meds" face!
I got an epidural at 5:40am and then Mom, Patricia, Sam and Vanessa came and hung out for a while. Up until then, Jack had been happily sitting in his stroller watching Jake on Jason's iPad (such a sweet boy!), but he was sure happy to see some friendly faces! I got checked again at 6:30am (PTL for the epidural - I didn't feel a thing!) and was a 5, then at 7am Sam and V took Jack to our house to let him take a nap (he'd been up since 3am at this point!). After they left, from 7:30-8:30 we tried to rest but didn't actually sleep. At 8:30am Vounett checked me and I was 7cm dilated and 90% effaced. I got to turn on my side for a bit which was a good change for me, since I had been stuck on my back for HOURS at that point.
We hung out and talked for a bit with my Mom, Patricia, and Jess, then I got checked at 10:30am and had only gone to an 8 and 90% after 2 hours, so to move things along I got some pitocin at 10:45am. Within 5-10 minutes my contractions started to look like mountain peaks, when they had been a little irregular. Vounett checked me again around 11:10ish and and called Dr. Brown to let him know I was "complete" and ready to push (Oh yeah, by the way - MY doctor was out of town!! AHHH!!!). By the time everything was ready and it was time to push, I only had to push through 3 contractions!!
On February 18th at 11:53am Miller James Lawhorn was born!
He was 6lbs 8oz and 19.75in long!