I've been feeling inspired lately (in spurts, mind you).
And here are a few of the things that have been inspiring me: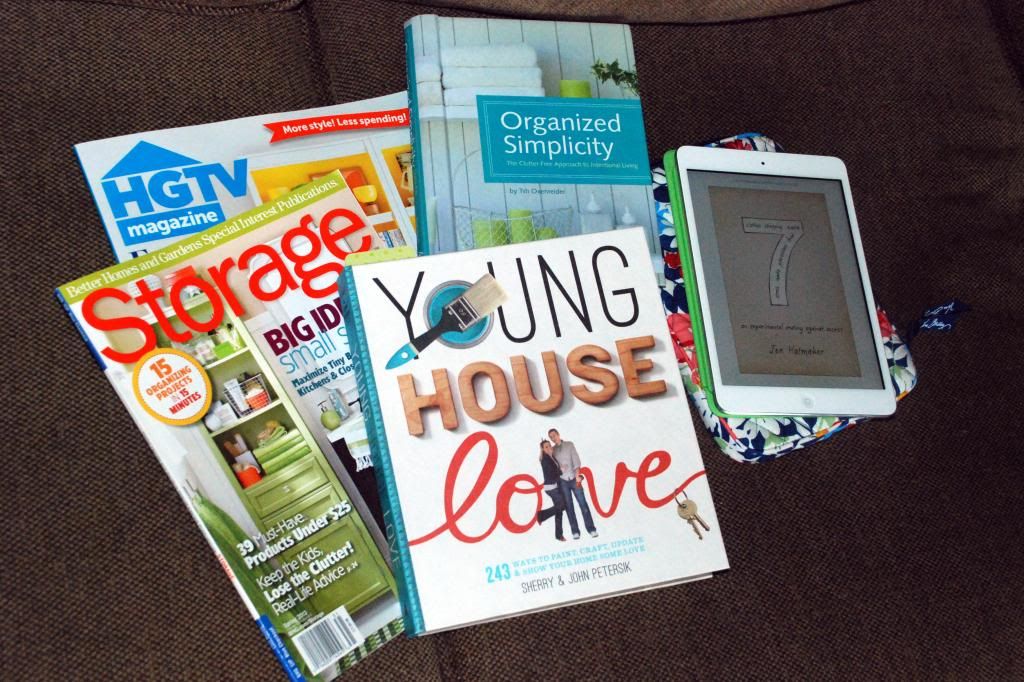 One of my FAVORITE bloggers (
iHeartOrganizing
) is featured in this season's Storage magazine, so I HAD to get it! I also saw the newest HGTV Magazine and between the two mags - there is
so much beautiful eye candy
! I'm not usually a big magazine person (
I've cancelled all my subscriptions because I would never read them and they just added to my clutter problem
), but these two are awesome.
My family got me the
Young House Love
book for Christmas! I hadn't actually seen it in person, so I had no idea that it was this thick hardcover book with all kinds of tips and tricks - it's a really awesome resource! And I got Organized Simplicity (
by Tsh of the
Simple Mom blog
) about a year ago, and just pulled it out again this fall. The first half of the book is the mindset behind living simply, and the second half is a room-by-room cleaning, organizing, and simplifying guide - both helpful at different points of your organizing journey.
Finally, I've been reading through
7 by Jen Hatmaker
(
another blogger, do you see a trend here??
) and it has been really good, but hard to get through. You can read more about it if you want to, but basically it's a convicting read about how much STUFF we have. It will make you want to get rid of a million things... and if you're like me - you need to!
So between all these things - getting rid of stuff, simplifying, and beautifully displaying the things we choose to keep - I'm feeling very inspired.
The best thing I've been doing is writing down smaller tasks of things to do. A big goal right now is to clear out the office and transform it into the Big Boy Room. Well, that's overwhelming, but "go through everything under the bed" or "put up curtains" are not nearly as daunting. And y'all know I love to cross things off my list!
What's inspiring you these days?